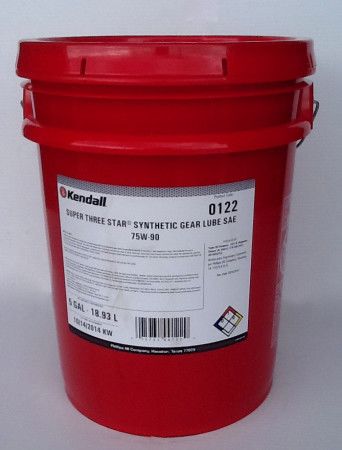 Kendall Super 3 Star Synthetic Gear Lube 75W90

Kendall Super 3 Star Synthetic Gear Lube 75W90 is designed for long drain service and extended warranty protection in car and truck axles with hypoid gear sets.  It has excellent water separating properties to prevent the formation of emulsions and retain it's lubricating properties even when there is a little water present.  It is approved for 500,000 mile drain intervals in heavy duty axles under ArvinMeritor extended warranties.  Applications include: Service fill of conventional differentials on cars and trucks.  Top off only of limited slip differentials on cars and light trucks.  Service of differentials, final drives and transfer cases in some off highway equipment.
*This product is also available in a 120 lb keg and a 410 lb drum. Contact customerservice@yoderoil.com for pricing information.
Meets the requirements of:
API Service GL-5, MT-1
ArvinMeritor 076-R for extended drain lubricants
Dana Spicer drive axles
Mack GO-J
MIL-PRF-2105E
SAE J2360
Product Description
Kendall Super 3 Star Synthetic Gear Lube 75W90
35 lb Pail
Spec sheet
Additional Information
| | |
| --- | --- |
| Weight | 40 lbs |
| Dimensions | 12 x 12 x 15 in |