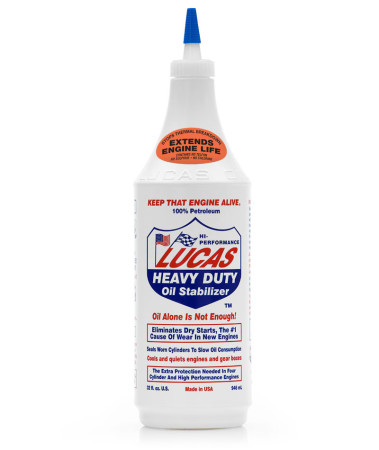 Lucas Heavy Duty Oil Stabilizer

Lucas Heavy Duty Oil Stabilizer is a special formulated blend of premium oil with additives.  These additives are blended together to make a product that will meet several needs within an engine or gear box.  For preventative maintenance it virtually eliminates dry starts and wear.  It extends oil life and lowers oil temperature in any engine, therefore, it will extend engine life.  It raises oil pressure, reduces smoking, leaking and knocking in worn engines.  In addition, it also helps control noise, overheating and wear in gear boxes.  This product is used by professionals because it completely adheres to the parts to eliminate the long try start that can be detrimental to newly rebuilt engines.  Also, it seals cylinders to keep oil from going up to be burned and keeps the contaminates of the combustion chamber from coming down to prematurely ruin the oil.
Product Description
Lucas Heavy Duty Oil Stabilizer
This product is available in quarts and gallons.
Spec Sheet
Additional Information
| | |
| --- | --- |
| Size | 12/1 Quart Case, 4/1 Gallon Case |